This event is open for entry but may be affected if current Government and
England Athletics
guidance on 'social distancing' is extended. If you enter now and find this event is cancelled, or affected at a later stage - we'll contact you to offer a free transfer or a credit note.
---
This ninth edition of the Frome Half Marathon sees the same famous course offering runners a big city race experience in this beautiful town and surrounding villages. Welcoming first-time half-marathoners, seasoned endurance runners and everyone in between you'll find people of all paces to keep you feeling strong as you take in the sights of this charming course.
A single 13.1 mile loop takes you from Frome Town Football Club through two residential areas where locals are out on their front lawns to give you the send off you need, before you head up through the town centre. Watch out for race photographers trying to catch you at your best! As you pass through the Critchill residential area, you'll experience its renowned hosepipe-wielding, jelly-baby-offering and impromptu-water-station-manning residents - a very welcome sight as you bank your first five miles.
Countryside lanes offer tranquil scenes as you head out to the idyllic Nunney village, with it's thatched builings, old red phone box and an all important water and fuel station. As you head back into Frome Town Centre, the legendary Egford Hill 1 kilometre steady climb brings you to the highest point of the route! From the top of the hill, the glorious sweep downhill through the heart of Frome will set your hairs on end, with your goosebumps carrying you through to the football club finish line.
Superb souvenir medals await you, with replenishing snacks and drinks to kickstart your recovery. Grab a finisher's photo on our podium before you leave and watch out for confirmation of your result within hours of the race.
---
On entering this event you should receive a booking confirmation email within 10 minutes. If you fail to do so, please check your spam/junk folder. Further event details will be communicated by email (to the address provided during registration) in the week leading up to the race.
---
Race Details
When: Sunday 27 September 2020 at 10:00.
Where: Frome Town Football Club, 48 Berkley Road, Frome. BA11 2EH.
Pricing: £25 Unaffiliated, £23 Affiliated, £0 Gold Members.
Entry on the Day: Entry on the day will not be available.
Age Requirements: Participants must be aged 17 or over on the day of the race.
Registration: From 08:30 to 09:15. Pack collection will be available for entries registered after the 6 September cutoff or where an incomplete, invalid or non-UK address has been provided during registration.
Race Numbers: Participants who register on or before 6 September 2020 and provide a valid UK address can expect to receive their race pack by post to the address provided during registration. Participants who provide an incomplete, invalid or non-UK address, together with anyone registering after 6 September 2020, will need to collect their race pack from registration on the day. If you expect, but fail to receive your pack by 21 September 2020, please contact us in order that we can prepare a replacement for collection on the day. To be fastened to the front of your top using the safety pins provided in your pack/at registration, your number should be visible at all times. Your timing chip is attached to the back of your number and should not be removed.
Timing: Chip-timed.
Route: The course is traffic-free, on closed roads and paths (with the exception of emergency responders and vehicles with specific permission). Beginning at Frome Town Football Club, the route proceeds around Frome itself before continuing south-west to Nunney and looping back through Whatley, Lower Whatley and Egford. Please be vigilant of vehicles, other runners, spectators, dogs, cyclists and other users of public footpaths and rights of way.
Spectators: Frome residents and visitors will be out on the course in almost all sections of the route. If you have friends or family coming to support you, they can watch from anywhere and make use of shortcuts to see you in more than one place. There are plenty of pubs, cafes and restaurants along the route.
Licensing: This race will be licensed with UK Athletics and the results submitted to Run Britain within a week of the race.
Pacers: Subject to availability, we expect to have pacers at this event with target half marathon times between 1h30m and 2h30m.
---
Facilities
Bag Drop: Whilst we recommend bringing as little as possible, you can leave your belongings with us while you race using the tear-off baggage strip on your race number, collecting after you finish by presenting your race number.
Toilets: Portable toilets will be available at the race village.
Race Marshals: Marshals will be present on the course throughout the race.
Distance Markers: The route will be clearly indicated with arrows, tape and distance markers where necessary.
Water/Fuel Stations: There will be water stations on the route at regular intervals at which water will be provided in recyclable plastic cups.
Goody Bag: All runners will receive water and snacks on completing the race.
Refreshments: Refreshments will be available in the race village throughout the event.
Changing/Showers: There are no changing rooms or showers at this event.
Lost Property: Lost property from an event will be kept for one month. If unclaimed, or ownership cannot be determined, lost property items will be donated to charity.
---
Results/Prizes
Results: Results will be uploaded live to our website (internet connection permitting) and communicated to all pre-registered participants within 24 hours of the event.
Medals: All finishers will receive a medal on completing the race.
Prizes: Prizes will be awarded to the top three runners overall and the top runner in each of the veteran categories (V40/V50/V60/V70) for both males and females. Where possible, we will endeavour to present individual race prizes as soon as validated on the day.
---
T-Shirts and Hoodies/Pace Pockets
Special souvenir t-shirts and hoodies are available for purchase during the order process. Please note that pre-purchased t-shirts and hoodies must be collected at this race and will not be available for collection at any other events.
Pace Pockets are also available for purchase from www.pacepockets.run. Pace Pockets are fabric wristbands with a storage pocket for all your running essentials, such as keys, cards, cash or gels, printed with your choice of marathon or half marathon splits. Use promo code PPZERO during purchase to facilitate FREE DELIVERY on all orders.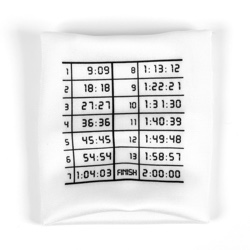 - Fabric wristband with storage pocket.
- Half Marathon split times printed on one side.
- Available options from 1h30 to 2h30.
---
Getting to the Race
Directions: Please navigate to Frome Town Football Club, BA11 2EH.
Parking: Limited free race parking will be available at Frome Cricket Club, 30 Rodden Road, Frome. BA11 2AH. Further parking should be available at the Showfield. Further information will be communicated to all pre-registered participants in the week leading up to the race.
---
Further Information
Buggies/Pushchairs: This race is not suitable for runners with buggies/pushchairs.
Wheelchair Users: This race is not suitable for wheelchair users.
Earphones/Headphones: Noise-cancelling earphones/headphones are prohibited and whilst we discourage the use of other earphones/headphones at this event, participants choosing to use them should ensure they are set to a minimum volume such that instructions from marshals or other race officials can be clearly understood. We reserve the right to disqualify participants who cannot hear instructions as a result of their use.
Event Time-Limit: There is a strict 3-hour time-limit for this race in order that we adhere to the restrictions imposed by the road-closure schedule. If you are still out on the course at this time, the sweep vehicle will ask you if you wish to continue which, without the road closures in place, will be at your own risk. The sweep vehicle can also return you to the Race Village if you feel unable to complete the course.
---
Social Media
For further information about our races or any race updates, please check our social media accounts;
https://www.facebook.com/FromeHalfMarathon/
https://twitter.com/FHM_10K_5K
https://www.instagram.com/fromehalfmarathon/
Join our Strava club to see how your fellow competitors are training and compare your race day performance.
---
Road Closures
Roads that are closed on or close to the race route will be closed for the minimum amount of time necessary. Our timing estimates shown on the road closure schedule are intended as maximum closure times - roads will not be closed any earlier than the stated closing time, but may open earlier than re-opening time.
Whilst we appreciate frustration for drivers, we do all we can to provide advance notice of closures and to keep disruption to an absolute minimum. On race day, our marshals and road safety officers will provide current, accurate information to the best of their knowledge with respect to timings and alternative routes. It is hoped that the benefit to the town and all those running or spectating is greater than the disruption caused by temporary road closures. If you are unable to travel by road for a short period during the race, please be patient. Abusive or intimidating behaviour towards staff and volunteers will be reported to the police. For details on roads that are closed or popular routes that are affected, please see our schedule of road closures below.
If you require more information please contact us at info@theraceorganiser.com
(1) Start: Lamp post 13 LHS Berkley Road (Road Closed 09:55-10:20)
(2) Berkley Road with St Johns Road (Road Closed 09:55-10:20)
(3) Selwood school Entrance (Road Closed 09:55-10:20)
(4) Berkley Road with Whitestone Road (Road Closed 09:55-10:20)
(5) Clink Road with Fermoy (Road Closed 09:55-10:20)
(6) Clink Road with Forest Road (Road Closed 09:55-10:20)
(7) Forest Road with The Copse (Road Closed 09:55-10:20)
(8) Forest Road with Elmleigh (Road Closed 09:55-10:20)
(9) Forest Road with Nightingale Ave (Road Closed 09:55-10:20)
(10) Forest Road with Car Park/garaging (Road Closed 09:55-10:20)
(11) Forest Road with Chestnut Close (Road Closed 09:55-10:20)
(12) Forest Road with Forest Road (cul de sac) (Road Closed 09:55-10:20)
(13) Forest Road with Nightingale Ave (Road Closed 09:55-10:20)
(14) Forest Road with Shops Entrance and garages opposite (Road Closed 09:55-10:20)
(15) Forest Road with Stonebridge Drive (Road Closed 09:55-10:20)
(16) Stonebridge Drive with Maytree Close (Road Closed 09:55-10:20)
(17) Stonebridge Drive with Beaconsfield Way (Road Closed 09:55-10:20)
(18) Stonebridge Drive with Alder Walk (Road Closed 09:55-10:20)
(19) Stonebridge Drive with Holly Court (Road Closed 09:55-10:20)
(20) Stonebridge Drive with Birch Walk (Road Closed 09:55-10:20)
(21) Brunel Way with Laurel Close (Road Closed 09:55-10:20)
(22) Brunel Way with Acacia Drive (Road Closed 09:55-10:20)
(23) Brunel Way with Wedmore Close (Road Closed 09:55-10:20)
(24) Brunel Way with Charterhouse Drive (Road Closed 09:55-10:20)
(25) Brunel Way with Wellow Drive (Road Closed 09:55-10:20)
(26) Brunel Way with Priddy Close (Road Closed 09:55-10:20)
(27) Brunel Way with Collett Way (Road Closed 09:55-10:20)
(28) Brunel Way with Blagdon Walk (Road Closed 09:55-10:20)
(29) Brunel Way with Brunel Way (close) (Road Closed 09:55-10:20)
(30) Brunel Way with Stephenson Drive (Road Closed 09:55-10:20)
(31) Brunel Way with Churchward Drive (Road Closed 09:55-10:20)
(32) Brunel Way with Clink Road (Road Closed 09:55-10:20)
(33) Wyville Road with Clink Road (Road Closed 09:55-10:20)
(34) Wyville Road with Holmbury Close (Road Closed 10:05-10:30)
(35) Wyville Road with Ludlow Close (Road Closed 10:05-10:30)
(36) Wyville Road with Westcott Close (Road Closed 10:05-10:30)
(37) Wyville Road with Bramley Drive (Road Closed 10:05-10:30)
(38) Wyville Road with Wych Elm Road (Road Closed 10:05-10:30)
(39) Wyville Road with Wivenhoe Court (Road Closed 10:05-10:30)
(40) Wyville Road with Bramley Drive (Road Closed 10:05-10:30)
(41) Wyville Road with Woodhayes Road (Road Closed 10:05-10:30)
(42) Wyville Road with Whitestone Road (Road Closed 10:05-10:30)
(43) Wyville Road with Linsvale Drive (Road Closed 10:05-10:30)
(44) Wyville Road with Wynford Road (Road Closed 10:05-10:30)
(45) Wyville Road with Wythburn Road (Road Closed 10:05-10:30)
(46) Boundary Ave with Garages on left (Road Closed 10:05-10:30)
(47) Boundary Ave with St Johns Road (Road Closed 10:05-10:30)
(48) St Johns Road with St Marys Road (Road Closed 10:05-10:30)
(49) St Johns Road with access to garages (Road Closed 10:05-10:30)
(50) St Johns Road with Armstong Road (Road Closed 10:05-10:30)
(51) St Johns Road with St Marys Road (Road Closed 10:05-10:30)
(52) St Johns Road with Rodden Road (Road Closed 09:45-10:40)
(53) Rodden Road with Beechwood Avenue (Road Closed 09:45-10:40)
(54) Beechwood Avenue with cul de sac (Road Closed 09:45-10:40)
(55) Beechwood Avenue with cul de sac (Road Closed 09:45-10:40)
(56) Beechwood Avenue with Beechwood Close (Road Closed 09:45-10:40)
(57) Beechwood Avenue with cul de sac (Road Closed 09:45-10:40)
(58) Beechwood Avenue with Rodden Road (Road Closed 09:45-10:40)
(59) Rodden Road with Windsor Crescent (Road Closed 09:45-10:40)
(60) Windsor Crescent with Berkley Road (Road Closed 09:45-10:40)
(61) Berkley Road with Rodden Road at Vine Tree Junction (Road Closed 09:45-12:45)
(62) Rodden Road with Roddenbury Close (Road Closed 10:10-10:45)
(63) Rodden Road with New Road (Road Closed 10:10-10:45)
(64) New Road with Elworthy Court (Road Closed 10:10-10:45)
(65) New Road with Hillside Drive (Road Closed 10:10-10:45)
(66) New Road with Warminster Road (Road Closed 10:10-10:45)
(67) Wallbridge with Tuckers Close (Road Closed 10:10-10:45)
(68) Wallbridge with The Retreat (Road Closed 10:10-10:45)
(69) Wallbridge with Station Approach (Road Closed 10:10-10:45)
(70) Wallbridge with Wallbridge Avenue (Road Closed 10:10-10:45)
(71) Wallbridge into Portway with Locks Hill (Road Closed 10:10-10:45)
(72) Portway with Victoria Road (Road Closed 10:10-10:45)
(73) Portway with Portway Gardens (Road Closed 10:10-10:45)
(74) Portway with Alexandra Road (Road Closed 10:10-10:45)
(75) Portway with Garsdale & Vicarage St (Road Closed 10:10-10:45)
(76) Christchurch St East with Blindhouse Lane (Road Closed 10:10-10:45)
(77) Christchurch St East with Gorehedge (Road Closed 10:10-10:45)
(78) Gorehedge With Wesley Slope (Road Closed 10:10-10:45)
(79) Wesley Slope/Butts Hill with Keyford (Road Closed 10:10-10:45)
(80) Butts Hill with Slipps Close (Road Closed 10:10-10:45)
(81) Butts Hill Highpoint Court & Garages (Road Closed 10:10-10:45)
(82) The Butts with Newington Close (Road Closed 10:10-10:45)
(83) The Butts with Somerset Road (Road Closed 10:10-10:45)
(84) Somerset Road with Whitewell Road (Road Closed 10:10-10:45)
(85) Somerset Road with Weymouth Road (L) (Road Closed 10:15-11:00)
(86) Somerset Road with Weymouth Road (R) (Road Closed 10:15-11:00)
(87) Somerset Road with Queens Road (Road Closed 10:15-11:00)
(88) Somerset Road with drive to houses (Road Closed 10:15-11:00)
(89) Somerset Road with Green Lane (Road Closed 10:15-11:00)
(90) Green Lane with Green Lane Close (Road Closed 10:15-11:00)
(91) Green Lane with Weywouth Road (Road Closed 10:15-11:00)
(92) Green Lane with Garages (Road Closed 10:15-11:00)
(93) Green Lane with Albion Close (Road Closed 10:15-11:00)
(94) Green Lane with Westfield Road (Road Closed 10:15-11:00)
(95) Whitewell road with Marston Lane, Green Lane & Whitemill Lane (Right turn) (Road Closed 10:15-11:00)
(96) Whitemill Lane with Whitewell Mews (Road Closed 10:15-11:00)
(97) Whitemill Lane with Critchill Road & Whitewell Road (Right turn) (Road Closed 10:15-11:00)
(98) Critchill Road with Hanover Garden Garages (Road Closed 10:15-11:00)
(99) Critchill Road with Critchill Close (Road Closed 10:15-11:00)
(100) Critchill Road with Catherston Close (Road Closed 10:15-11:00)
(101) Critchill Road with Beverley Close (Road Closed 10:15-11:00)
(102) Critchill Road with Westover Court (Shop) (Road Closed 10:15-11:00)
(103) Critchill Road with Barn Close (Road Closed 10:15-11:00)
(104) Critchill Road with Westover (Road Closed 10:15-11:00)
(105) Critchill Road with Flint's Close (Road Closed 10:15-11:00)
(106) Critchill Road with Churchill Road (Road Closed 10:15-11:00)
(107) Critchill Road with Oakfield Road (Road Closed 10:15-11:00)
(108) Oakfield Road with St Adhelm's Close (Road Closed 10:15-11:00)
(109) Oakfield Road with St Adhelm's Court (Road Closed 10:15-11:00)
(110) Oakfield Road with Somerset Road, Dommetts Lane and Green Lane (Road Closed 10:15-11:00)
(111) Dommetts Lane with Benetts Gardens (Road Closed 10:15-11:00)
(112) Dommetts Lane with Portland Road and Nunney Road (Road Closed 10:15-11:00)
(113) Portland Road with Portland Place (Road Closed 10:15-11:00)
(114) Portland Road with Broadway and Robins Lane (Road Closed 10:15-11:00)
(115) Nunney Road with Nunney Barton & Lynfield Road (Road Closed 10:20-11:35)
(116) Nunney Road with Oakfield Road (Road Closed 10:20-11:35)
(117) Nunney Road becomes Frome Road (Road Closed 10:20-11:35)
(118) Frome Road with Whitemill Lane (Road Closed 10:20-11:35)
(119) Frome Road with Golf Club (Road Closed 10:20-11:35)
(120) Frome Road with Sharpshaw Farm (Road Closed 10:20-11:35)
(121) Frome Road with Folwell Farm (Road Closed 10:20-11:35)
(122) Frome Road (Nunney village sign) (Road Closed 10:20-11:35)
(123) Frome Road with Donkey Lane Nunney (Road Closed 10:20-11:35)
(124) n/a (Road Closed 10:20-11:35)
(125) Church Street Nunney with Market Place Nunney (Road Closed 10:20-11:35)
(126) Castle Hill with Horn Street Nunney (Road Closed 10:35-12:10)
(127) Castle Hill with Castle Street Nunney (Road Closed 10:35-12:10)
(128) Castle Hill with Castle Car Park Nunney (Road Closed 10:35-12:10)
(129) Castle Hill with Somer's Hill (Road Closed 10:35-12:10)
(130) Somer's Hill with Nunney Sleight (Road Closed 10:35-12:10)
(131) Nunney Sleight with Castle Hill (Nunney Road) - START EXTENSION (Road Closed 10:35-12:10)
(132) TURN (Road Closed 10:35-12:10)
(133) Nunney Sleight with Castle Hill (Nunney Road) - END EXTENSION (Road Closed 10:35-12:10)
(134) Entrance to Southfield House (Road Closed 10:35-12:10)
(135) Nunney Sleight with Lower Whatley road (Road Closed 10:35-12:10)
(136) Nunney Sleight turning to Whatley village (Road Closed 10:35-12:10)
(137) Church Car Park (Road Closed 10:35-12:10)
(138) Whatley Farm Junction on Left (Road Closed 10:35-12:10)
(139) Old Sun Inn junction on right (Road Closed 10:35-12:10)
(140) Whatley to Holwell Road (Road Closed 10:35-12:10)
(141) Industrial Estate (Road Closed 10:50-12:30)
(142) Egford Farm (Road Closed 10:50-12:30)
(143) Egford with Mells Road (Road Closed 10:50-12:30)
(144) Egford with Elm Lane (Road Closed 10:50-12:30)
(145) Egford Hill (Road Closed 10:50-12:30)
(146) Egford Hill (Road Closed 10:50-12:30)
(147) Egford Hill (Road Closed 10:50-12:30)
(148) Industrial Estate (Road Closed 10:50-12:30)
(149) Broadway with Oakfield Road (Road Closed 10:50-12:30)
(150) Broadway with Egford Lane (Road Closed 10:50-12:30)
(151) Broadway with Houston Way (Road Closed 10:50-12:30)
(152) Broadway with Dorset close (Road Closed 10:20-12:45)
(153) Broadway with Vallis Way (Roundabout) & Vallis Rd/Vallis Way Closure (Road Closed 10:20-12:45)
(154) Badcox with Castle Street (Road Closed 10:20-12:45)
(155) Badcox with Nunney Road (Road Closed 10:20-12:45)
(156) Badcox with Catherine Street (Road Closed 10:20-12:45)
(157) Badcox with Weymouth Road (Road Closed 10:20-12:45)
(158) Christchuch St West with Wine Street (Road Closed 10:20-12:45)
(159) Christchuch St West with South Parade (Road Closed 10:20-12:45)
(160) Christchuch St West with Park Road (Road Closed 10:20-12:45)
(161) Christchuch St West with Bath Street & Wesley Slope (roundabout) (Road Closed 10:20-12:45)
(162) Bath Street with Rook Lane (Road Closed 10:20-12:45)
(163) Bath Street with Palmer Street (Road Closed 10:20-12:45)
(164) Market Place with Eagle Lane (Road Closed 10:20-12:45)
(165) Market Place with Stoney Street (Road Closed 10:20-12:45)
(166) Market Place with Cork Street (Road Closed 10:20-12:45)
(167) Market Place with King Street (Road Closed 10:20-12:45)
(168) Market Place to North Parade (Road Closed 10:20-12:45)
(169) North Parade with Willow Vale (Road Closed 10:20-12:45)
(170) North Parade with Bridge St (Road Closed 10:20-12:45)
(171) North Parade with Bridge St (Road Closed 10:20-12:45)
(172) North Parade with Welshmill Road (Road Closed 10:20-12:45)
(173) North Parade with Berkley Road and Fromefield (Road Closed 10:20-12:45)
(174) Berkley Road with Windsor Crescent (Road Closed 10:20-12:45)
(175) Berkley Road at Vine Tree Junction (Road Closed 10:20-12:45)
(176) Finish: Lamp post 13 LHS Berkley Road (Road Closed 10:20-12:45)